Bolus for Choking Manikin
AED 279.57 Price includes VAT
Get your Order delivered in 3 working days for in stock items, You can pay securely by Visa or Master card as well.
"Boluses that are used to simulate an airway obstruction for Choking Charlie.
Tip: Talcum powder is used to simulate normal saliva in throat and should be applied frequently to reduce friction between bolus and mouth throat.
Laerdal code: 102-00150"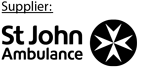 Bolus for Choking Manikin. Set of 4