Elasticated stockinette size F 1m
AED 13.79
Get your Order delivered in 3 working days for in stock items, You can pay securely by Visa or Master card as well.
"
Elasticated stockinette tubular bandage 1m – size F
Product Code: F11335
DescriptionA tubular cut to size bandage ideal for compression and support of many types of sprains and strains.
Suitable for adult large size leg or medium size thigh
Size F – 10cm x 1m
Strong high quality.
Works with: Wire frame applicator size F
Alternative sizes:
For alternative sizes please see below for stockinette size chart:
Child's limb: small A medium B large C
Adult arm: Small B medium C large D
Adult ankle: small C medium D large E
Adult leg: small D medium E large F
Adult thigh: small E medium F large G
"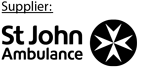 Elasticated stockinette size F 1m
Additional information
| | |
| --- | --- |
| Weight | 0.000000 kg |
| Dimensions | 0.000000 × 0.000000 × 0.000000 cm |