AED 2.32 Price includes VAT
Get your Order delivered in 3 working days for in stock items, You can pay securely by Visa or Master card as well.
The eye bath can be used for the irrigation of the eye with water or eye wash solution.
Ideal to keep with a first aid kit or eye wash kit
Green plastic.
Works with:
Eye wash
First aid kits
Health and safety (first aid) regulations
Where mains tap water is not readily available for eye irrigation at least one
litre of sterile water or sterile saline (0.9percent) in sealed disposable containers
should be provided. Once seals are broken containers should not be kept for
reuse. Containers should not be used after the expiry date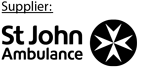 Eye Bath from St John Ambulance .