AED 18.00 Price includes VAT
Get your Order delivered in 3 working days for in stock items, You can pay securely by Visa or Master card as well.
• Use for irrigation and cleaning of the eyes
• Squeeze bottle enables control of flow rate and the jet can be directed for precise application
• Easy twist-off opening cap
• Contains Chloride 0.9% w/v in a sterile saline solution
• Ready for use.[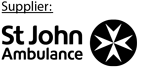 Customers who bought this item also bought
Health and safety (first aid) regulations:
• Where mains tap water is not readily available for eye irrigation, at least one litre of sterile water or sterile saline (0.9%) in sealed, disposable containers should be provided.
• Once seals are broken, containers should not be kept for reuse.
• Containers should not be used after the expiry date.