HSE Medium sterile dressing 12x12cm
AED 3.98 Price includes VAT
Get your Order delivered in 3 working days for in stock items, You can pay securely by Visa or Master card as well.
A dressing bandage with a highly absorbent pad that cushions wounds and provides initial protection from infection.
• Packaged in sterile plastic wrapping
• Pad size – 12 x 12cm
• Vital for any first aid kit
• St John Ambulance branded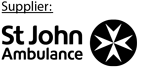 HSE medium dressing 12x12cm from St John Ambulance.