KOOLPAK Reusable Hot/ Cold mini pack – 13 x 14 cm
AED 16.26
Get your Order delivered in 3 working days for in stock items, You can pay securely by Visa or Master card as well.
"
Koolpak® reusable hot/cold pack – 13 x 14cm
Product Code: F11436
DescriptionA reusable treatment pack that can be heated or chilled depending on needs.
Heated it increases circulation to injured areas
Chilled it reduces swelling
Gives effective relief from muscular and joint aches pains and strains
Ideal for sports injuries
Stays cooler longer than a standard ice pack
Cool in freezer to use as an ice pack or heat in a microwave to use as a hot pack.
Works with: Koolpak® holster
Alternative products:
Koolpak® reusable hot / cold pack 13 x 14cm
Hot and cold packs
"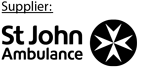 KOOLPAK Reusable Hot/ Cold mini pack – 13 x 14 cm
Additional information
| | |
| --- | --- |
| Weight | 0.000000 kg |
| Dimensions | 0.000000 × 0.000000 × 0.000000 cm |