Lift east trolley mattress
AED 48,675.38
Get your Order delivered in 3 working days for in stock items, You can pay securely by Visa or Master card as well.
"The Lift Easy is one of the lift-assist range of ambulance trolleys. Designed to help reduce the risks of manual handling by utilising gas strut cylinders contributing towards the safe raising and lowering of patients.
Two gas strut cylinder mechanisms assist raising and lowering throughout its full range allowing the trolley to lock in any position. This reduces the amount of effort required by the operators and therefore contributing towards a reduced risk of manual handling.
The benefits of the Lift Easy include:
For optimum patient care the backrest raises 75 degrees and the shock position is easily achieved in one smooth operation.
The foot end also drops down to allow the trolley to be fitted across the bulkhead of a vehicle for the transverse transportation of seated patients.
Folding push pull handles.
Length 187cm Width 55cm Height (max) 81cm Height (min) 44cm Max Load 200kg.
This product is made direct to order with delivery from the manufacturer. Please contact us for a lead time as it will be delivered to you by a separate courier. It is not available for next day delivery."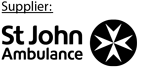 Lift east trolley mattress from St. John Ambulance. Length 187cm, Width 55cm, Height (max) 81cm, Height (min) 44cm, Max Load 200kg.
Additional information
| | |
| --- | --- |
| Weight | 0.000000 kg |
| Dimensions | 0.000000 × 0.000000 × 0.000000 cm |