MobileAid Hi-Visibility XL Incident Command Team Kit
AED 4,099.10 Price includes VAT
Get your Order delivered in 3 working days for in stock items, You can pay securely by Visa or Master card as well.
MobileAid Hi-Visibility XL Incident Command Team Kit (31430)
A comprehensive emergency incident command kit designed to help a safety leader and staff take charge in any emergency or disaster. This emergency backpack deploys to create an incident command base station with 4 independent grab-and-go incident command pouches with supplies for use by incident commander and safety staff. This kit includes 2-way radios, other critcial emergency response control supplies, trauma first aid supplies, and a megaphone. High capacity, super-rugged ballistic nylon backpack with quick response organization pouches and high visibility emergency markings. 4-Way carry: backpack, shoulder strap, hand straps, ride on MobileAid Stations.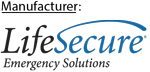 – HIGH CAPACITY Spacious main compartment (12″W x 17″H x 9″D) and 2 tall side compartments (2″W x 17″H x 10″D)
– EASY 4-WAY-CARRY backpack (padded shoulder straps, sternum strap, and waist belt), shoulder strap, hand straps, or ride on MobileAid rolling stations
– FLEXIBLE QUICK-ACCESS ORGANIZATION 1 main compartment with restraint straps and top and front access, 2 side compartments, and 14 internal pockets,6 Clear-view medical supplies pouches with customizable handle ID tags,Large pull tab zippers for quick opening,6 external elastic-grip flashlight tubes
– EASY IDENTIFICATION and ENHANCED SAFETY hi-visibility markings, reflective stripes and piping, and 24 pre-printed and customizable ID placards (AED, TRAUMA, TRIAGE, OXYGEN, NURSE, CERT, SAFETY, SEARCH & RESCUE, COMMAND, RADIO, TRAINER, SPORTS, COACH, EMS, EMT, 9 blank for customizing)
– DURABLE PROTECTION FOR SUPPLIES super durable, weather-resistant ballistic nylon for years of use in rugged conditions
– SECURITY external double security zippers can be secured with locks or tamper evident ties
– ADJUSTABLE adjustable shoulder straps, sternum strap, waist belt, and adjustable internal restraining straps
Contents:
FIRST AID RESPONSE:
(1) First Aid Guide Book
(1) CPR Shield
(1) Search & Rescue First Aid Kit
(4) Vinyl Gloves ? Pair in bag
QUICK RESPONSE SIDE DOORS:
(1) Writing tablet
(1) Pen
(2) Sharpie Permanent Marker
(4) Clip Boards
(1) Instruction/Inventory Sheet
(1) Waterproof document pouch
MEGAPHONE:
(1) 8 Watt Megaphone
(8) C batteries
COMMAND SHELTER:
(1) Tarp
(1) Rope ? 50 feet
FOUR (4) GRAB & GO COMMAND MODULES ? Each Contain:
(1) Emergency Supplies Pouch
(1) Hi-Vis Safety Vest
(1) N-95 Mask
(1) Search & Rescue Whistle
(1) Midland 22 Channel Radio
(1) Pen
(1) Writing tablet
(1) Leather Palm Gloves
(1) Heavy Duty Flashlight
(2) D batteries
(3) AAA batteries
(2) Light Sticks
(1) Emergency thermal blanket
(1) Heavy Duty Poncho
(1) Caution Tape ? 25 feet
Dimensions:
External dimensions: (16″W x 19″H x 10.5″ deep)
Internal dimensions (main comparment): (12″W x 17″H x 9″D)
2 side compartments: (2″W x 17″H x 10″D)
Front access door: (11″W x 16″H)
Top Access door: (9.5″W x 7″H)