AED 46.31
Get your Order delivered in 3 working days for in stock items, You can pay securely by Visa or Master card as well.
"Recoverice wraps are a revolutionary cold therapy treatment. An alternative to the traditional ice/gel pack they work by evaporation so rather than trying to push cold in they draw heat out with the added benefit of compression.
Ideal for the R.I.C.E (Rest Ice Comfortable Elevation) method of acute injury treatment the bandage provides instant cooling and pain relief Recoverice wraps are 100% natural and are impregnated with arnica – a natural remedy to reduce bruising and swelling.
Guidelines printed on the bandage indicate how it should be applied for optimum compression.Small and lightweight (100g) with waterproof packaging ideal for First Aid kits as no preparation or pre-cooling required.
Proven cold therapy medical evidence shows that immediate application of cold and compression to an acute injury dramatically increases recovery time. Recoverice wraps can also be used on bites stings and burns (including sunburn) where skin remains unbroken. They are also perfect for easing chronic muscular aches and pains caused by inflammation."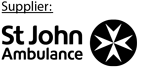 Recover Ice – 1 Metre. Recoverice wraps are a revolutionary cold therapy treatment
Additional information
| | |
| --- | --- |
| Weight | 0.000000 kg |
| Dimensions | 0.000000 × 0.000000 × 0.000000 cm |