Nitrile Powder Free Gloves – Large pk100
AED 59.54
Get your Order delivered in 3 working days for in stock items, You can pay securely by Visa or Master card as well.
Blue Nitrile Powder-Free Gloves
• Nitrile material provides a high degree of softness sensitivity feel and flexibility
• Nitrile reacts to your body temperature and conforms to the shape of your hand
• Latex-free
• Ideal for delicate procedures
Important Information – latex allergies: the law.
The law places specific responsibilities for managing health and safety on employers and employees. The Health and Safety at Work Act 1974 places a general duty upon employers to keep emplyees and others (such as patients) healthy and safe at work. The Control of Substances Hazardous to Health Regulations 2002 asks employers to undertake an assessment of any substances used at work that are hazardous to health. Natural rubber latex is hazardous to health. Following advice from the St John Ambulance medical committee as well as concern for many commercial customers St John Ambulance has withdrawn from sale all types of latex gloves and recommends that vinyl or nitrile disposable gloves are purchased instead. St John Ambulance is pleased to help our customers in their endeavours to reduce risks and protect people.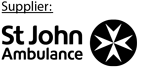 Customers who bought this item also bought

Additional information
| | |
| --- | --- |
| Weight | 0.000000 kg |
| Dimensions | 0.000000 × 0.000000 × 0.000000 cm |