Skill Guide for QCPR Manikins
AED 555.66 Price includes VAT
Get your Order delivered in 3 working days for in stock items, You can pay securely by Visa or Master card as well.
This Skill Guide for QCPR Manikins enhances the ability to measure track and improve your CPR skills. It is small portable and light weight, compatible with Resusci® Anne, Resusci® Junior and Resusci® Baby Training Manikins with QCPR technology for advanced resuscitation training.
• For effective objective real-time and summative measurement and assessment during life saving first aid training
• Skill Guide for QCPR Manikins enables trainers to give students quality feedback leading to developed competency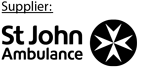 This Skill Guide for QCPR Manikins has 3 modes for use: Feedback, Blind and Debriefing.
Skill Guide for QCPR Manikins measures Real-time feedback:
• Compression Depth
• Compression rate
• Incomplete release
• Incorrect hand position
• Ventilation volume
• Compression and ventilation counter
Summative feedback available:
• Compression score percentage
• Ventilation score percentage
• The most severe errors on ventilations and compressions
• CPR duration in minutes and seconds
• Flow fraction percentage