AED 19.02 Price includes VAT
Get your Order delivered in 3 working days for in stock items, You can pay securely by Visa or Master card as well.
St John Ambulance eye wash 500ml
Sterile eye wash solution can be used for the irrigation and cleansing of the eyes.
A squeeze bottle for a controllable flow rate
Directable jet for precision application
Twist off cap for ease of opening in an emergency
Contains Sodium Chloride 0.9% w/v
It is a sterile saline solution
Ready to use.
Works with: Emergency eye wash station and Eye wash pod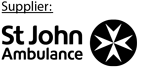 Customers who bought this item also bought
Health and safety (first aid) regulations:
• Where mains tap water is not readily available for eye irrigation at least one litre of sterile water or sterile saline (0.9%) in sealed disposable containers should be provided.
• Once seals are broken containers should not be kept for reuse.
• Containers should not be used after the expiry date.