Tuff kut scissors green w-be821
AED 13.89 Price includes VAT
Get your Order delivered in 3 working days for in stock items, You can pay securely by Visa or Master card as well.
Use for cutting clothing seat belts and other materials in an emergency situation.
• Hard wearing and heavy duty
• Autoclavable
• Multi purpose
• Hardened stainless steel blades with moulded tip to prevent cutting patient in error
• Ergonomic high impact handles
• Serrated blade grips material and reduces hand fatigue
• Used by paramedics.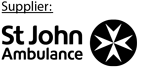 Tuff kut scissors
•Heavy duty Tuff-Kut scissors
•Multi purpose and autoclavable
•Hardened stainless steel blades with moulded
tip to prevent cutting patient
•Ergonomic high impact handles
•Serrated blade grips material and reduces hand fatigue
•Cut clothing, seat belts etc safely, quickly and easily
•Available in 8 different colours