AED 44.10
Get your Order delivered in 3 working days for in stock items, You can pay securely by Visa or Master card as well.
"
WaterJel® burn dressing – 5 x 15cm
Product Code: F80202
Description
Also available: WaterJel® burn dressing – 10 x 10cm
WaterJel® burn dressings are non-adherent non-woven pads made with a scientifically formulated cooling gel.
The gel used in WaterJel® dressings is made from 96% water and is very slow to evaporate so the dressing remain moist and won't stick to burn injuries
They provide thermal (not evaporative) cooling of burns without the need for re-wetting so they're easy to use and provide fast one-step relief for emergency first aid when someone has been burned
The dressing stops burn progression and cools the skin relieves pain and protects against airborne contamination
They will not stick to burn injuries
The dressings are soaked in a water-based – water-soluble bacteriostatic and biodegradable gel and sterilised to ensure a contamination-free atmosphere for emergency treatment of burns
With WaterJel® burn dressings it takes no special training to give fast and effective emergency burn care for any type of burn injury.
Works with:
First aid kits
Burn kits
Alternative products:
Burn products
"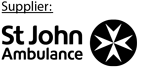 Additional information
| | |
| --- | --- |
| Weight | 0.000000 kg |
| Dimensions | 0.000000 × 0.000000 × 0.000000 cm |