Moldex 9000 Series Full-Face Respirator, Medium
AED 659.30 Price includes VAT
Get your Order delivered in 3 working days for in stock items, You can pay securely by Visa or Master card as well.
Moldex 9000 Series Full-Face Respirator can be combined with various EasyLock® gas and particulate filters, with no need for adapters or special pre-filters.
• High-tech, streamlined design for exceptional worker acceptance
• Exclusive over-molded lens offers greater field of vision
• Lighter weight for superior all-day comfort
• Less cost and easy maintenance with very few replacement parts
• Moldex 9000 Series Full-Face Respirator has stand-away head harness for easy donning and doffing
• Lens stays away from flat surface when laid down to avoid scratching
• Tear away lens protector included
• Lens meets ANSI Z87+ for high impact requirements
• 100% PVC-Free, like all Moldex products & packaging – for a greener alternative
This product is mask body with EasyLock connection. Filters to be purchased separately.
Mask Specifications:
INSPECTION: EN 136:1998 CL2
APPROVAL: (EU) 2016/425
MASK BODY SHELF LIFE FROM DATE OF PRODUCTION: Unlimited shelf life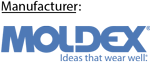 EASY TO WEAR
At less than 13 ounces, the 9000 Series respirator is ultra-lightweight. Workers will appreciate the comfort and longer wearability and employers will benefit from increased user acceptance.
ON & OFF MADE EASY
A convenient ratchet fastening strap system and the stand-away head harness make donning and doffing the 9000 mask quick and easy. The strap tabs are securely molded directly to the flange for rugged use.
A FRAMELESS MASK WITH A VIEW
The Moldex 9000 Series Full-Face Respirator mask has an extra-wide viewing lens, with an exclusive over-molded flange design. This eliminates the traditional clamping frame found on most other face pieces.
COMPLETELY METAL-FREE
The 9000 is completely metal-free, making it ideal for mines, refineries and other work environments where metal may be hazardous.
MAINTENANCE HAS NEVER BEEN EASIER
Advanced design eliminates unnecessary parts. Our over-molded flange and harness tabs, plus integrated exhalation assembly, make cleaning and maintaining the 9000 Series respirator a breeze.
Additional information
| | |
| --- | --- |
| Weight | 0.000000 kg |
| Dimensions | 0.000000 × 0.000000 × 0.000000 cm |