Examination couch(F75020)
AED 4,997.60 Price includes VAT
Get your Order delivered in 3 working days for in stock items, You can pay securely by Visa or Master card as well.
• A reliable, versatile patient examination couch
• Reliable, self-locking multi-position adjustable backrest
• Thick 50mm CMHR foam top for patient comfort and height-adjustable legs
• Unstitched, rounded upholstery corners for hygiene and cleanliness with easy to clean,
epoxy coated white frame.
• Paper roll holder supplied that can be fitted within the couch frame or externally
A robust patient couch that co-ordinates with the Executive Trolley Range and Solid Panel Screen.
Sculpted tube frame to ease back rest lifting. Backrest and paper roll holder need assembling.
Weight: 40kg
Load capacity: 160kg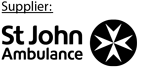 Executive Examination couch from St. John Ambulance. Maximum user weight 160kgs (25 stone).
• A reliable, versatile patient examination couch
• Reliable, self-locking multi-position adjustable backrest
• Thick 50mm CMHR foam top for patient comfort and height-adjustable legs
• Unstitched, rounded upholstery corners for hygiene and cleanliness with easy to clean,
epoxy coated white frame.
• Paper roll holder supplied that can be fitted within the couch frame or externally
A robust patient couch that co-ordinates with the Executive Trolley Range and Solid Panel Screen.
Sculpted tube frame to ease back rest lifting. Backrest and paper roll holder need assembling.
Weight: 40kg
Load capacity: 160kg
Dimensions:
80 x 70.5 x 184cm (paper roll holder inboard)
80 x 70.5 x 194cm (paper roll holder outboard)