Eye wash phials 20ml pk25
AED 86.82 Price includes VAT
Get your Order delivered in 3 working days for in stock items, You can pay securely by Visa or Master card as well.
"
Eye wash phials 20ml – pack of 25
Product Code: F17881
DescriptionCompact 20ml phials that are an essential extra to keep in first aid kits or first aid cabinets.
Suitable for irrigation of the eyes or wound cleansing
Economical in use
Minimal wastage when compared to larger eye wash bottles
Supplied in strip format which ensures phials stay together when stored but can be easily separated in an emergency
Ready for use – they just snap open.
Please note the eye wash phial shape may vary from the image shown.Health and safety (first aid) regulations
Where mains tap water is not readily available for eye irrigation at least one litre of sterile water or sterile saline (0.9%) in sealed disposable containers should be provided. Once seals are broken containers should not be kept for reuse. Containers should not be used after the expiry date.
Due to a supply issue these will be unavailable until April 2015 please use F17870 as a suitable alternative
"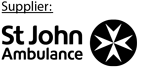 Eyewash phials 20ml pk25. Suitable for eye wash and wound cleansing. Pack of 25 x 20ml phials.