Pelican Plastic Seat Belt Cutter & Ligature Knife – Orange
AED 40.79
Get your Order delivered in 3 working days for in stock items, You can pay securely by Visa or Master card as well.
"A requirement for anti-ligature cut down tools evolved from a recommendation by Woodcock which resulted in a PSI issued in June 2006 that mandated the need for all uniformed staff within closed or semi open establishments to carry anti-ligature cut-down tools.
Cut-down tools are a national requirement underpinned by PSO 2700 (Suicide Prevention and Self Harm Management)
Cut down tools are used for cutting through a variety of materials that prisoners use to create ligatures the most commonly used being bed sheets.
Fixed Blade Seat Belt Cutter
Can also be used as a Ligature Knife
Protected Blade for Safety
Wide Body for Easy Grip
High Visibility Orange Colour
A simple but effective device for ensuring the occupants of a car are able to exit quickly and safely particularly in the overturned car. The fixed blade allows the belt cutter to cut through the tough webbing of the seat belt and the protected blade prevents any injuries from the shap blade. The wide handle enables the gloved hand easy grip and control of the cutter.
Readily accessible and potentially life saving the SP Seat Belt Cutter is used by Police Fire and Ambulance services throughout the UK. Designed specifically with speed and efficiency in mind the SP Seat Belt Cutter is a very popular safety device that can be used to cut through seat belts clothing and many other restraining materials allowing casualties to be freed quickly and efficiently in emergency situations.
Moulded from heavy duty ABS plastic the SP Seat Belt Cutter includes a high quality angled STANLEY blade with an ergonomically designed hand grip allowing for a clean accurate cut in situations where time is extremely limited.
The SP Seat Belt Cutter is a very valuable and welcome addition to any portable emergency kit."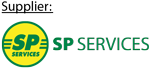 Additional information
| | |
| --- | --- |
| Weight | 0.000000 kg |
| Dimensions | 0.000000 × 0.000000 × 0.000000 cm |