AED 2,155.30 Price includes VAT
Get your Order delivered in 3 working days for in stock items, You can pay securely by Visa or Master card as well.
Portable Screen Product Code: F62004 Description Quality Epoxy coated medical screen with wipe clean curtain. Measures: height: 168cm curtain open: 168cm curtain closed: 61cm. Direct delivery from manufacture. Made to order. Please contact us for a lead time.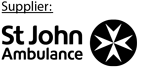 Portable screen from St. John Ambulance. Height: 168cm, curtain open: 168cm, curtain closed: 61cm.