Reflex Hi-Vis 200 Trauma First Aid Backpack
AED 1,996.90 Price includes VAT
Get your Order delivered in 3 working days for in stock items, You can pay securely by Visa or Master card as well.
"Item Number: 31734
Comprehensive 260-piece emergency trauma first aid backpack kit that includes 6 Quick-Access first aid supply modules and a flexible stretcher OSHA & ANSI compliant. High-capacity trauma First Aid 4-way-carry backpack: backpack shoulder strap hand straps ride on MobileAid rolling stations. Flexible organization of first aid supplies and equipment. Made of super-rugged ballistic nylon. Hi-visibility markings and 24 pre-printed and customizable ID placards."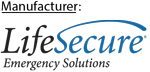 Reflex 200 Hi-Visibility Trauma First Aid Backpack (31734)
A 218-piece trauma first aid kit with supplies packed in 3 OTS
Medical Supplies Clear-View Pouches with Organizer Trays (60363)
and 2 small clear-view pouches. Includes a high-visbility safety vest.
Carried in a lightweight MobielAid Reflex backpack (31736).
Special Features:
Comprehensive Backpack Kit: 218-piece trauma first kit
Quick-access organization: extensive first aid supplies organized in
quick-response modules for fast access and effective treatment
Compact and lightweight: Measures 15.5″ x 7″ x 9″ and weighs
only 11 lbs fully loaded
Easy-Carry: Carry by handle or with backpack straps or ride on
MobileAid Easy-Roll stations
Easy Identification and Enhanced Safety: hi-visibility markings, reflective
stripes and piping, and pre-printed and customizable ID placards
(AED, TRAUMA, TRIAGE, OXYGEN, NURSE, CERT, SAFETY, SEARCH &
RESCUE, COMMAND, RADIO, TRAINER, SPORTS, COACH, EMS, EMT,
blanks for customizing)
Adjustable: adjustable shoulder straps, sternum strap, waist belt, and
side compression straps