Conform Bandage 5cm x 4.5m
AED 2.21
Get your Order delivered in 3 working days for in stock items, You can pay securely by Visa or Master card as well.
"
St John Ambulance conforming bandage 5cm x 4.5m – single
Product Code: F90120
DescriptionHigh quality yet economically priced these conforming bandages are mostly used to support strains and for dressing retention. Pack of 5 bandages at 7.5cm x 4.5m each.
Stretchy and elastic it conforms to any body shape
Lightweight
Fray resistant
Reusable and durable
St John Ambulance branded.
"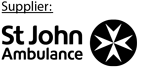 Conform bandage 5cmx4.5m from St John Ambulacne
Additional information
| | |
| --- | --- |
| Weight | 0.000000 kg |
| Dimensions | 0.000000 × 0.000000 × 0.000000 cm |