Topaz Aneroid Sphygmomanometer
AED 283.62 Price includes VAT
Get your Order delivered in 3 working days for in stock items, You can pay securely by Visa or Master card as well.
"The palm aneroid sphygmomanometer blood pressure monitor is ideal for use in hospitals offices schools and the home. Its compact size means it can also be easily packed for travel. As with all manual blood pressure monitors a stethoscope is required for use.
Manual BP monitor features:
Joint bellows and gauge for easy one hand operation
Adult Velcro cuff
1 year warranty
Self calibrated."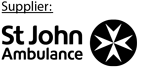 Topaz Aneroid Sphygmomanometer. Self calibrated. One year warranty.