Classic FFP1 Non-Valved N95 Label – Box of 20
AED 176.40 Price includes VAT
Get your Order delivered in 3 working days for in stock items, You can pay securely by Visa or Master card as well.
Classic FFP1 Non-Valved N95 Label.
• Dura-Mesh® shell resists collapsing in heat and humidity
• Molded nose bridge seals easily without a metal noseband
• Facepiece is naturally contoured without pressure points
• Straps are securely attached so they don't break at the seal
• Softspun® lining for increased comfort and durability
• Soft foam nose cushion for added comfort
• Have passed the optional Dolomite clogging test. Better breathing resistance for longer.
• NIOSH certified to have a filter efficiency of 95% or greater for non-oil based particulates
Certified under 42CFR84
• Meets heat and flame resistance in accordance with ANSI/ISEA 110-2009 Section 7.11.1
• Suitable for most welding applications
• 100% PVC-Free, like all Moldex products & packaging – for a greener alternative
• Classic FFP1 Non-Valved N95 is Non-Reusable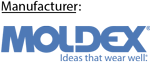 Customers who bought this item also bought
Frequently Bought Together
AED

176.40

Price includes VAT

AED

109.98

Price includes VAT

AED

104.74

Price includes VAT

AED

1,109.39

Price includes VAT

Total Price:

AED

1,166.81

Add All To Wishlist

Browse Wishlist
LAST LONGER, USE FEWER
Classic FFP1 Non-Valved N95 uses the Dura-Mesh shell, exclusive to Moldex protects the filter media so it stays cleaner-looking longer. The shell resists collapsing, even in heat and humidity so the respirator holds its shape longer. The result is fewer respirators used and lower costs.
EASY FIT, MORE COMFORT
The molded nose bridge provides the wearer an easy comfortable fit. There's no metal noseband to adjust, and the seal is maintained without pressure points. The Softspun® lining is soft to the touch, which means workers won't mind wearing it for an entire shift.